Sick Employee Guidelines
WhatsNew:
Find a Healthy Restaurant

Coming soon, find local Healthy Service Restaurants online and a mobile app too!
Updated: April 3, 2015
[NUMO.AccOUNTS: LOGIN BOX LEFT]
Healthy Employees
Obviously it is STRONGLY preferred that any sick employee not be allowed on restaurant premises. Adhering to the Advanced Sick Employee Guideline policy is the only way a restaurant can score 100 on their sanitary assessment.
Since employees have been allowed to work while sick for so long, we understand they will be a transitional period for some. However, no sick employee must be allowed to contaminate other employees or customers under any circumstance.
If a restaurant cannot commit to our Advanced Sick Employee Guidelines the following must be adhered to.
Every effort will be made to send sick employees home, or have their shifts covered.

If an employee falls ill during a shift and cannot be sent home, or has not been able to get their shift covered, they must be moved to a position where they cannot infect others, or must wear a mask if near other people or food.

The restaurant will utilize the Challenged Service Cards whenever possible, allowing them to work short staffed and keep sick employees off premises.
We only offer this alternative during the transitional period while restaurants and staff get used to the new standard.
Advanced Sick Employee Guideline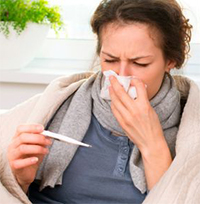 Very few restaurants do not allow sick employees to work. Most restaurants knowingly allow sick employees to work. Everyone we have talked to agrees this needs to stop.
Restaurant must comply with the Healthy Service Sick Employee guidelines, however we encourage all to take it a step further and
1) Test questionable employees for fever.
2) Send employees home when they show signs of sickness.
3) Do not allow sick employees on premises.
Our Healthy Service Management Handbook provides advice, tools and policies to make this a simple and easily implemented reality. It is not as hard as you think to implement this policy, but it should not matter how hard it is, sick employees should never be allowed to serve the public.